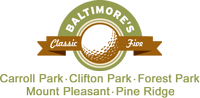 The Baltimore Municipal Golf Corporation, the nation's first non-profit organization dedicated to the management and operation of municipal golf courses, provides affordable, quality golf, a junior golf program that teaches the game to the golfers of tomorrow through ethics, honor, and self-worth, and strives for each of its five golf courses to be active and respected members of the communities that they serve in the Baltimore metropolitan area.
---
Donations
By making a tax-deductible donation today, you are providing kids the opportunity to learn life's critical lessons while learning a game for life and preserving Baltimore's golfing tradition. Most importantly, you are contributing to the future of Baltimore children and communities.
Please click the button below to make your donation online.