Baltimore Classic Five
Carroll Park – Clifton Park – Forest Park
Mount Pleasant – Pine Ridge
2023 Baltimore Two-Man Team Championship
June 3 and 4, 2023
Mount Pleasant Golf Course
Congratulations to Brett Keller and Kristopher Ward for winning the 2023 Baltimore Two-Man Championship. Keller and Ward shot 16-under over the two days and won by six strokes. In the Senior Division, Greg Ruark and Tim Talbot shot 3-under to win the 2023 Baltimore Two-Man Championship's Senior Division by one stroke.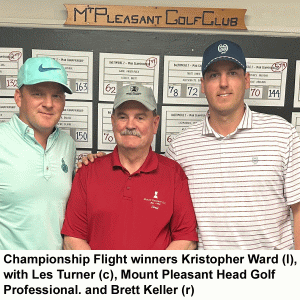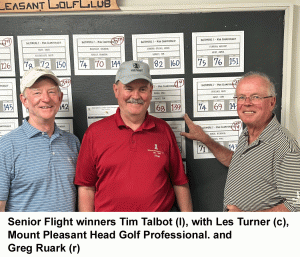 ---
Stars & Pars Golf Outing
Clifton Park will host a golf outing on the morning of July 4th. This is a Red, White, & Blue "Captain's Choice" format event that is open to the public.
The entry fee is $280 per team of four golfers or $70 per person which includes greens fees, cart fees, a raffle ticket, a breakfast sandwich with coffee or a fountain soda, and prizes.
Click Here to register and pay for a team online, or sign-up by calling the Clifton Park Pro Shop at 410-243-3500 or stop by the pro shop and sign up in person. All singles, twosomes, and threesomes will be paired together by the Clifton Park Golf Course Staff.
Prizes will be awarded for the First Place team in the event, closest to the pin on all par 3 holes, the most patriotic dressed team, and a raffle will follow the event.
Clifton Park Pro Shop will open at 7:00am for breakfast and the event will begin at 8:00am.
All net proceeds will benefit BMGC Junior Golf.
---
2023 Monthly Weekday Afternoon Passes Available for Purchase
Monthly Weekday Afternoon Passes are available for purchase at each golf course's pro shop and online. The Monthly Weekday Afternoon Pass program will operate from April through December 2023. Also passes are available that include a golf cart and passes that do not include a golf cart.
Click Here for more information and to purchase a Monthly Pass online.
---
Classic 5 Golf Course's
Loyalty Points Program
Beginning January 1, 2023, all active Player Card holders will be and continue to be automatically enrolled in the Classic 5 Golf Course's Loyalty Points Program.
Loyalty points are earned every time an active Player Card holder pays for greens fees, cart fees, select pro shop merchandise and food and beverage at the clubhouse. Since Forest Park's café is operated by a third party, this refers to food and beverage sold in the pro shop.
Must have a valid player's card to earn loyalty points
Earn points for every dollar spent on greens fees, cart fees, food and beverage and select merchandise
Points may not be used to purchase player cards, passes, gift cards, handicaps, range balls, outings, alcoholic beverages, lessons and other areas determined by BMGC
Points do not expire (but may be periodically purged – you will be given plenty of notice prior to that happening)
Points may be used at any time regardless of the balance due
Every point is worth $0.05 (i.e. 100 points = $5.00)
IMPORTANT – to assure you are receiving the points, provide your name or Player Card number to the staff member to make certain they have the correct profile. Points cannot be added after the transaction. It is important that you make sure your points are correct. This program can change or be amended at any time without notice.
---
Toptracer at
Pine Ridge Driving Range
The Pine Ridge Driving Range is now Powered by Toptracer. The Toptracer technology provides the player several different data parameters including, ball speed, carry distance, total distance, descent angle, and distance right or left of target. Toptracer also has games and virtual golf courses, like Pebble Beach, St. Andrews, Bethpage Black, that golfers can play.
Toptracer has an App that assists golfers to track and review their progress. Golfers interested in using the Toptracer App must first download it on their device of choice. A QR code will be posted around the Pine Ridge Driving Range that can be scanned, encouraging a quicker and seamless experience to set up a personal account.
Depending on the type of station golfers want to use, the Toptracer prices are for that particular station and time frame, no matter if it is one person or four people using Toptracer at that station. Important to note is, if someone purchases the time to use Toptracer, range balls are included in the price.
Under Cover Toptracer Station Prices
30 minutes ($20.00) includes a small bucket of range balls
1 hour ($35.00) includes a medium bucket of range balls
2 hours ($60.00) includes a large bucket of range balls
No Cover Toptracer Station Prices
(Must have a smart phone or tablet to access Toptracer App)
30 minutes ($15.00) includes a small bucket of range balls
1 hour ($25.00) includes a medium bucket of range balls
2 hours ($40.00) includes a large bucket of range balls
Range Ball Buckets
(Not Utilizing Toptracer)
Small bucket ($5.00)
Medium bucket ($10.00)
Large bucket ($15.00)
---
Golf Pass Programs
Besides the Classic Five Golf Courses Afternoon and Annual Pass programs, there are only two pass programs that the Classic Five Golf Courses are participating: Tee Time Golf Pass and Victory Golf Pass.
An online golf pass program that is fraudulently listing the Classic Five Golf Courses as courses that are participating in their program is the Players Pass. We are working to have our golf courses removed.
Stay Up To Date. Join Our E-Club.