Baltimore Classic Five
Carroll Park – Clifton Park – Forest Park
Mount Pleasant – Pine Ridge
Golf Cart Policy
Baltimore's Classic Five golf courses continue to monitor state and local Covid 19 guidelines and are doing everything we can to provide a safe and user-friendly experience at the golf courses. As the rate of vaccination in the State of Maryland continues to increase, we are implementing changes to our golf cart policy that will allow more of our customers an opportunity to use golf carts should they choose.
The following are new guidelines for golf cart usage effective May 17th:
2 golfers to a cart with no divider between the golfers if they are from the same family/household.
2 golfers to a cart with a divider between the golfers if they are not from the same family/household.
If a golfer wants a single cart, they will be charged an additional cart fee. This additional cart fee will be the same amount as the regular cart fee being charged for that tee time (foursomes and threesomes receive 2 carts at regular rate).
The additional fuel needed, labor required, expanded cart maintenance, and the increased stress to the turfgrass due to more golf cart traffic has added a higher expense and operational complications. As always, our goal is to provide proper care for our courses and ensure an enjoyable and safe golf experience for our customers. We appreciate your understanding as we continue to navigate these difficult times.
---
2021 Monthly Weekday Afternoon Passes
Monthly Weekday Afternoon Passes are available for purchase at each golf course's pro shop and online. The Monthly Weekday Afternoon Pass program will operate from April through December 2021. Also passes are available that include a golf cart and passes that do not include a golf cart.
The monthly passes allow unlimited play and use of a golf cart for one person on weekdays after 12:00pm during the month(s) and golf courses of the pass purchased. Click Here for a list of special pricing if multiple months are purchased at one time. Multiple month passes are available for purchase at all golf course pro shops.
Click Here for more information concerning Monthly Weekday Afternoon Passes and to purchase a pass online.
---
New Point of Sale and Online Tee Time Reservation System
On January 1, 2021, BMGC began utilizing a new point of sale and online tee time reservation system called ForeUp. In the new system, customer's email addresses will be their user id to log in to make online tee time reservations.
To log in the first time, returning customers whose email was in the old system will need to update their password. Go to the Classic5golf.com website and click on the Book A Tee Time button. Click on the Log In link in the upper right corner of the web page. Click the Forgot Password link and following the instructions to change your password to whatever you want it to be. You will now be able to log in.
If the system does not find your email, consult pro shop staff to update your profile or call the BMGC office at 410-444-4933.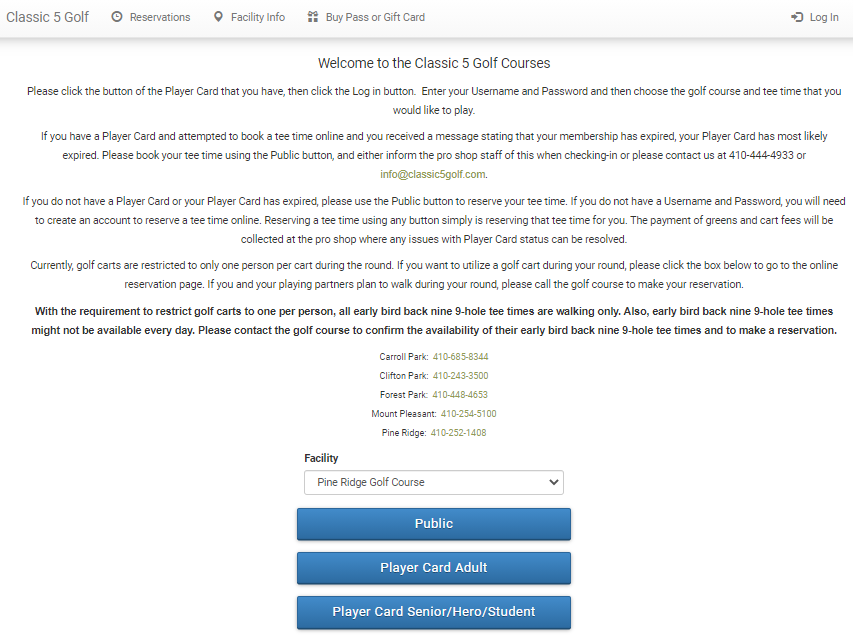 Stay Up To Date. Join Our E-Club.