Baltimore Classic Five
Carroll Park – Clifton Park – Forest Park
Mount Pleasant – Pine Ridge
Beginning August 9th, masks are required indoors in Baltimore City for both vaccinated and unvaccinated people. Everyone entering a building at Carroll Park, Clifton Park, Forest Park, or Mount Pleasant must wear a mask at all times while in the building.
---
Off-Season Greens Fee Rates Begin Monday, November 8th
Off-season greens fees will be in effect starting Monday, November 8, 2021. During the off-season months, please check the Course Conditions on our web site (classic5golf.com) or call the golf course to check the latest course conditions and confirm that the course is open for play before coming out to the golf course.
During the off-season, weather conditions may force us to close one or all golf courses on a day-to-day basis. The weather in Baltimore during the winter months can be challenging for our golf courses with quickly changing conditions and temperatures, and we want to keep our customers informed.
Click Here for a file with all of the golf courses' off-season greens and cart fee rates.
As always, golfers are permitted to walk at any time when they play. Subtract the appropriate cart fee from the appropriate greens fee rate to calculate walking rates. Cart fees are listed at the bottom of the golf courses' off-season greens and cart fee rates. The posted greens fee rates for Juniors, Replays, Travelers, and FootGolf at Carroll Park are walking rates.
---
Point of Sale and Online Tee Time Reservation System
On January 1, 2021, BMGC began utilizing a new point of sale and online tee time reservation system called ForeUp. In the new system, customer's email addresses will be their user id to log in to make online tee time reservations.
To log in the first time, returning customers whose email was in the old system will need to update their password. Go to the Classic5golf.com website and click on the Book A Tee Time button. Click on the Log In link in the upper right corner of the web page. Click the Forgot Password link and following the instructions to change your password to whatever you want it to be. You will now be able to log in.
If the system does not find your email, consult pro shop staff to update your profile or call the BMGC office at 410-444-4933.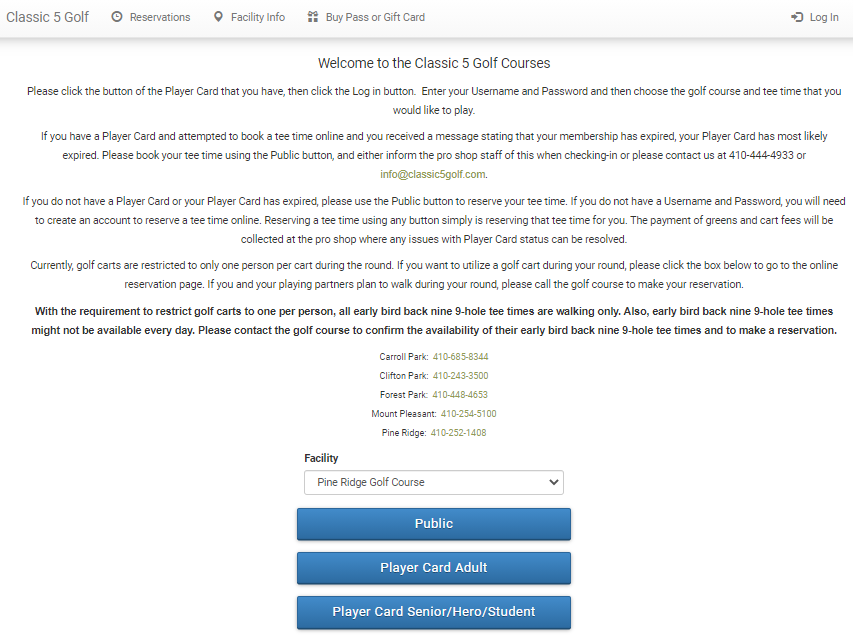 Stay Up To Date. Join Our E-Club.