Baltimore Classic Five
Carroll Park – Clifton Park – Forest Park
Mount Pleasant – Pine Ridge
Beginning August 9th, masks are required indoors in Baltimore City for both vaccinated and unvaccinated people. Everyone entering a building at Carroll Park, Clifton Park, Forest Park, or Mount Pleasant must wear a mask at all times while in the building.
---
Julieta Stack Named A Top 100 Growth of the Game Teacher
The Golf Range Association of America GRAA released their list of the top 100 individuals in their magazine. The honor spotlights the dedication these professionals display in coaching their students to play better golf and have more fun, and the inspiring nature they did it in, during a critical time in their lives.
Julieta Stack oversees BMGC's Baltimore Golf Academy and has over 30 years of teaching experience in the game of golf. She's also a past recipient as a U.S. Kids Golf Top 50 Junior Coach in 2019. She believes coaching is all about building trust and healthy relationships. Stack works with individuals to better their swing but believes that, to truly be a good coach, you still have to listen to an individual and understand their physical, emotional and psychological sides to help them build confidence towards their goals.
---
2021 Monthly Weekday Afternoon Passes
Monthly Weekday Afternoon Passes are available for purchase at each golf course's pro shop and online. The Monthly Weekday Afternoon Pass program will operate from April through December 2021. Also passes are available that include a golf cart and passes that do not include a golf cart.
The monthly passes allow unlimited play and use of a golf cart for one person on weekdays after 12:00pm during the month(s) and golf courses of the pass purchased.
Click Here for more information concerning Monthly Weekday Afternoon Passes and to purchase a pass online.
---
Point of Sale and Online Tee Time Reservation System
On January 1, 2021, BMGC began utilizing a new point of sale and online tee time reservation system called ForeUp. In the new system, customer's email addresses will be their user id to log in to make online tee time reservations.
To log in the first time, returning customers whose email was in the old system will need to update their password. Go to the Classic5golf.com website and click on the Book A Tee Time button. Click on the Log In link in the upper right corner of the web page. Click the Forgot Password link and following the instructions to change your password to whatever you want it to be. You will now be able to log in.
If the system does not find your email, consult pro shop staff to update your profile or call the BMGC office at 410-444-4933.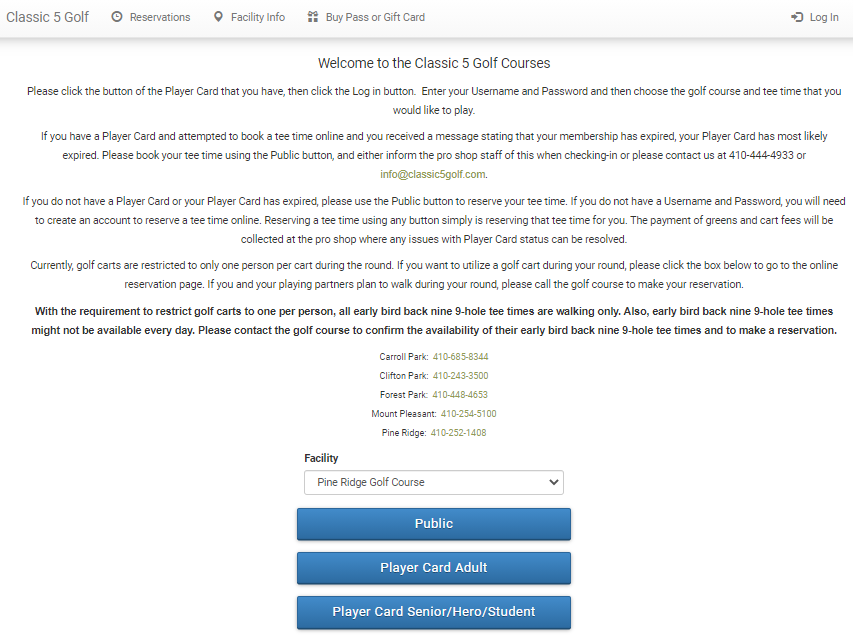 Stay Up To Date. Join Our E-Club.